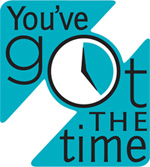 As Lent draws to a close we as a church are starting out on a new 40 day challenge, the Bible Societies "You've got the time". This enables you to hear the whole new testament, from Mathew to Revelations in forty 28 minute audio recordings. The Bible Society have given everyone in our church an MP3 player, pre-loaded with the audio complete with battery and headphones. So all we need to do now is find the time each day to listen.
Its all a bit new to some of our older members, but the young ones are well away so sure we will all muddle through. We hope to have a collection at the end to support the Bible Societies work around the world, providing audio and other bibles where people could otherwise never hear the word of God.
For more information or to download the audio yourself visit the Bible Society by clicking on the You've got the time logo.