Each week's teaching is published here.
It could be just the sermon, or include linked Study notes, but the key is that they can be in a group setting, or for personal reflection. You can also find a number of other sermons here: http://www.knaphillbaptist.org.uk/sermons.
You can find links to older series at the bottom of this page or on the top menu
We trust you'll find them useful.
How Jesus Helped People, and is still helping today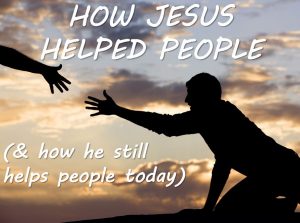 A series on the Missional nature of church and how Jesus reaches out to people today just as he ever did.
14th January 2018

Loneliness

21st January 2018

Broken Relationships

28th January 2018

The Men who were Afraid

4th February 2018

The Woman who needed Healing

11th February 2018

The Seeker after Truth

18th February 2018

The Sinful Woman

4th March 2018

The Man Unable to help himself

11th March 2018

The Man Who Failed

18th March 2018

The Man who Doubted

Any documents will open in a new window. To download the documents right-click the link and save, or similar for your chosen browser. To read these you will need a PDF viewer installed – get Adobe here or Foxit here.
Other Study Series
2017 – The Kingdom of God is Like…
2017 – Lessons for Life
2016 – Advent
2016 – God's Radical People
2016 – How to improve your prayer life