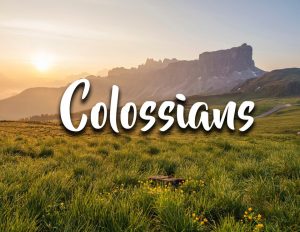 Colossians
In the book of Colossians, Paul encourages the Colossian Christians to see Jesus as the centre of all reality, so they don't give in to pressure from other religions. He addresses problems the Church faces and encourages believers to remain devoted to the exalted Jesus.
28th April 2019

The Exalted Messiah

Colossians 1: 1 – 23

5th May 2019

The Suffering Apostle

Colossians 1:24 – 2:5

12th May 2019

The Pressure to turn away

Colossians 2:6 – 23

26th May 2019

The Resurrection Life Part 1

Colossians 3:1 – 17

2nd June 2019

The Resurrection Life Part 2

Colossians 3:18 – 4:17

Any documents will open in a new window. To download the documents right-click the link and save, or similar for your chosen browser. To read these you will need a PDF viewer installed – get Adobe here or Foxit here.
Other Study Series
2018 – From Easter to Pentecost; and From Pentecost Onwards
2018 – How Jesus Helps people
2017 – The Kingdom of God is Like…
2017 – Lessons for Life
2016 – Advent
2016 – God's Radical People
2016 – How to improve your prayer life