Every Tuesday, 9:30 to 11:30 (during term time)
Within the church the children can play with a vast array of toys, adults can have a chat, before everyone comes together at the end to sing fun songs. For now we're aren't able to provide refreshments, but you're welcome to bring your own.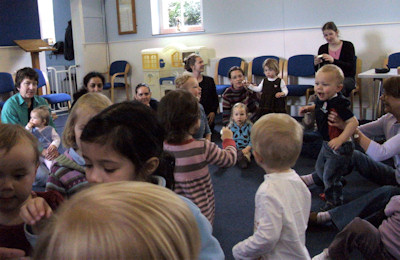 All of the church's volunteers are vetted and DBS checked for the security and protection of your children. There is a nominal charge of £1.00 per 'family' for each session to help contribute towards the basic costs of the group, which is paid on arrival when signing-in.
If you would like more details, please contact us or alternatively just turn up. The front door is kept shut during the session, but there is a doorbell just to the right of the front door – ring it and someone will appear!
We look forward to seeing you.