Welcome to our church – we invite you to look around and get a feel for who we are. Feel free to share any comments or questions that might be on your mind with us through our Contact Page. It's been difficult being a church fellowship these recent months, but like so many churches we've able to make use of technology to meet online thanks to Zoom and we now meet "hybrid" – both online and in Church. You can read more here.
If you're not currently a member of our church – we'd like to take this opportunity to invite you to one of our weekly services. Please get in touch and we'll be happy to share the details. We hope you and your family are staying safe and we look forward to being able to welcome you!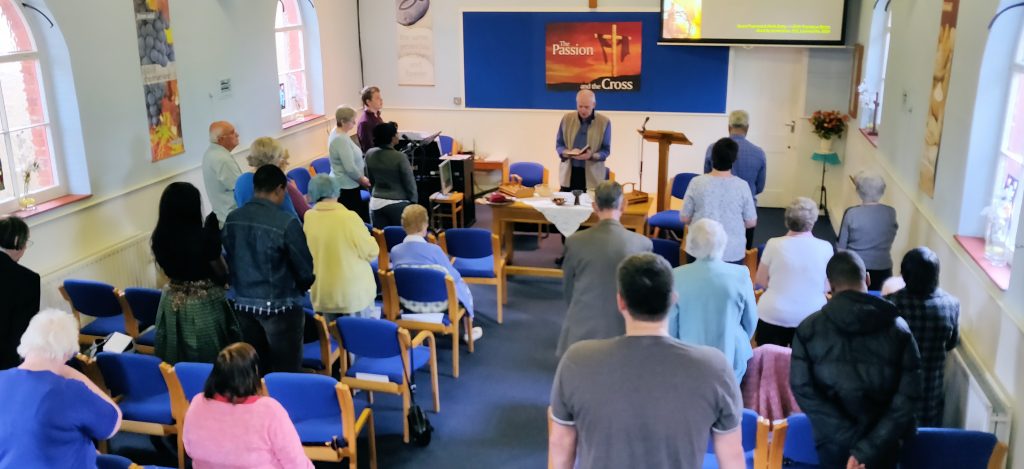 This is what the church ought to look like… We're now open socially distanced – join us in church or on Zoom as you are able!
Food for Thought
We're really pleased to introduce you to "Food for Thought", a weekly video of thoughts from Pieter or Hetty. we hope you'll enjoying watching them and share them widely. Here's this week's from Hetty – you'll usually find them here: Food for Thought.
2021 Verse of the Year
Isaiah 46:4b: "I have made you and I will carry you; I will sustain you and I will rescue you."
We invited our incoming Minister, Rev Pieter Lalleman, who starts with us on Jan 30th, to choose and preach our verse of the year for 2021.
He chose Isaiah 46 v4(b), and whilst the verse is always true thanks to the constancy of our Lord, it is most appropriate at this most uncertain and worrying of times. In the address, Pieter explains both the choice and the wonderful blessing behind the verse.
You can listen to the address here: Sermons on SoundCloud.com