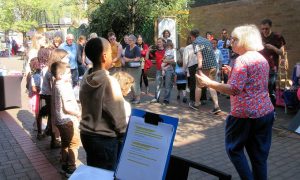 Since the autumn of 2021 the church has a children's choir. In the spring of 2022, they adopted the name Little Lights. It is intended for children from about 5 to 9 years old, but in practice some are over 9. Currently there are more boys than girls!
So far, the Little Light have performed at the church's candlelight service and at the village's Easter market. They sing a mixture of existing songs and songs especially written by the leader, Hetty Lalleman.
The Little Lights sing Christian songs, but everyone is welcome to join in! It's every Saturday morning from 10 to 11am in the church and taking part is absolutely free!
Interested? Questions? Just contact Hetty Lalleman below or phone the church at 01483 474083.