Harvest Services these days don't have quite the same resonance as in days of old when most people worked on the land. The Agricultural Harvest today is year round, highly mechanised, and no longer directly celebrated in urban churches.
So why do we still bother?
Because we have to much to give thanks for! We can recognise God's provision in so many different ways, and it is wonderful to take the time to say "Thank You" and praise Him for His goodness to us.
But it's also a great opportunity to remember those who are less fortunate, those for who existence is subsistence living on the land, those who actually cannot afford to feed their families, or send their children to school. And we're not only talking about third world countries, unless we consider the UK "Third World"?
That's why each Harvest we look at the work of one or two organisations that are helping people move from survive to thrive.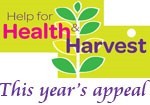 This year we looked again at the work of Operation Agri

and their 2016 appeal "Help for Harvest" featuring three projects in three different countries:
Nicaragua (training local people to provide medical care in remote villages)
Nepal (a water project to irrigate fields, yielding better harvests)
Uganda (catch-up classes for children, and savings clubs for mothers)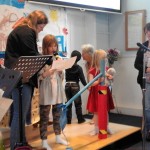 Here's Jigsaw, our junior church explaining why they've made a water pump
Our monetary offering supported Operation Agri as in many recent years, and it was great to see what they're doing to help poor people become more self-sufficient in small rural agricultural communities, providing micro-loans, education, both vocation and primary, often to women for whom education is not a right. You can catch up with more of their work here: http://www.operationagri.org.uk

But this year for the first time, we also supported Woking Foodbank

. Part of the National Trussel Trust network of foodbanks, they want to make sure that no one in our local community has to go hungry.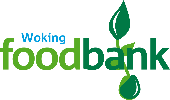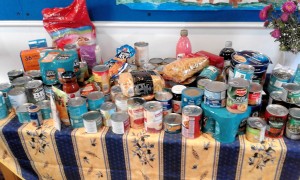 We will be continuing to support them with a permanent display and collection point in the church. Could you donate something each week ? If you have a shop in Knaphill, would you host a collecting point so that it's easier for people to donate?