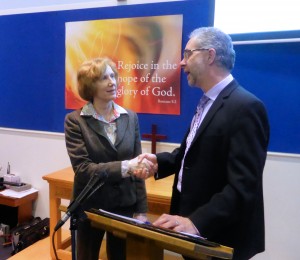 Knaphill Baptist Church, Woking, has a new Minister. The Rev Julia Binney was recently inducted to the Pastorate of the Church by the Rev Stuart Davison, the South Eastern Baptist Association Regional Minister. A packed church celebrated Julia's arrival with a joyful and moving Induction Service which somehow managed to combine serious moments with lots of fun and laughter. The Service was led by the Rev Mike Stanbrook (the Moderator at the church for the past year) in his own inimitable, freewheeling style, and the Rev Dr John Colwell preached a short but very powerful sermon exploring the vital nature of 'Servant Leadership' and what it really meant for the local church to serve God and the community. Other contributions came from the Deputy Mayor, Councillor Anne Murray, the Rev Harry Place (the Senior Pastor of Dorchester Baptist Church), and the Ministers and Clergy of the local Anglican, Methodist, and Roman Catholic Churches.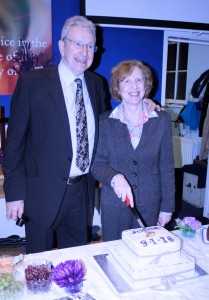 A really happy occasion was rounded off with a wonderful Induction Tea.
Julia is the first female Pastor in the Knaphill church's long history. In her 20s, after studying Economics at Essex University, followed by a Postgraduate Diploma in Hotel and Catering Management, Julia successfully ran several popular Night Clubs in London and the Home Counties. Shortly before her 30th birthday, however, she experienced a life changing moment when she came to faith in Christ at an Anglican Church in Twickenham. Over the next few years her life took a radical change of direction. She met, and married her husband Jim (also a Baptist Minister) and, after serving God together in churches in Worcestershire and Birmingham, felt called by God to the Baptist Ministry herself. After training at Spurgeon's College, London (where she gained a Master's Degree in Theology) she became Associate Minister (alongside her husband) at Beckenham Baptist Church, Kent in 2004. In 2010 (following a period of illness for Julia) Julia and Jim 'retired' to West Dorset where they became active members of Dorchester Baptist Church. The sense of 'call' to ministry remained very strong, however, and when Julia received an invitation to the Pastorate of Knaphill Baptist Church in the autumn of 2015 she was delighted to accept this opportunity to serve (with Jim's support) this 'small but enthusiastic' group of people. Known for her skills as an excellent preacher, caring pastor, and intuitive worship leader, 57 year old Julia is looking forward to serve not only her new congregation but also the people of Knaphill in general as well.