Winter 2014

"All change!" I hear the conductor cry out… No longer able to journey on in this seat I must leave the train and find another; will there be another one? Where is the new train? What now…
Change is a constancy in life. It is a fallacy to believe that we can hold on to what we have and stay the same. Ageing, if nothing else, puts paid to that! No, we have to embrace change, whether it comes in a predictable way or unexpectedly.
Whilst it is true that the nature of the God we worship and serve never changes, He is the same yesterday today and tomorrow, the "I Am whom I Am," He desires that we grow as disciples, for we "are being transformed into His image with ever-increasing glory (2 Cor 3:18)" so that we might become the people He always knew we could be.
You know, I'm sure Yosef and Miryam were very content with theirs lives in Natzeret, looking forward to their wedding and the future they had together. But out of the blue God intervened and laid before them a completely different path, one far less secure and predictable. But, because they were brave and resolutely faithful to God, they knew the joy of being the vehicle by which our Saviour came.
Now I am not suggesting in anyway that God's intervention in my ministry and the call to minister before Him in Hull is anything like that experienced by the Holy Family (certainly Larrie hopes notl). However, it does come with a large shot of the unknown and the unknowable. The decision to leave was one made from an absolute desire to be where God wants us, not from a desire to move (again).
Likewise, this imposed period of change upon the church, has also come unexpectedly, and it will mean that the fellowship will need to continue to seek after God's will for it in this new season. But if we can learn anything from the Bible, it is this, when God intervenes to bring about change it is always for the better. It is always to lead His people on, to draw them closer to Him so that they can become a little more the people He wants them to be.
So once "all change" has been called, it's pointless staying in the carriage resolutely denying what's come upon you. Instead, we all must go with God's call and experience anew the privilege of being a part of His plan, for us, and for Knaphill Baptist Church in 2015 and beyond.
As Christ, the Saviour of all, came through the obedience of a frightened, obedient couple two thousand years ago, may we draw strength from their example and equally unreservedly submit to God's will and purpose. Have courage to embrace His change and allow Christ to come to those we live and work with, that His glory may abound more and more.
Autumn 2014

As I write, the children are returning to school, the leaves are turing on the trees and the nights are starting to draw in. Sure signs that the best of Summer is behind us and we're moving into autumn.
However, with the shorting days come the joy of being able to see the nights sky in the evening, and the other day Larrie and I were away from the urban street lighting and saw the beauty and wonder of the cosmos above our heads.
All those galaxies, suns with their own systems of planets and moons in turn. And as you look up and see the belt of stars and dust and realise that this is our sideways view across the galaxy of which we are at the edge of, it makes me wonder at the power and splendour of the One who created it all. Now all this tells us that, despite what we'd like to think, we are not the centre of our own solar system, let alone our Galaxy or universe! Yet the Psalmist boldly goes on to declare that we are crowned with His glory and honour – hardly insignificant from God's perspective!
You see, science is teaching us that there is a Goldilocks principle that permits us to even be. If the Universe was endowed with slightly less energy at its inception, it would have collapsed back in on itself. If a little more then atoms couldn't exist as the expanding forces would be just too great – but instead it is just right, not too hot and not too cold!
Now, matter, the stuff we're made from, is forged in stars, and many need to be born, explode and die for the raw material to be available to form us and the means of keeping us alive. This means a big, huge, enormous universe is needed – life couldn't be a part of God's creation (if he stuck to the laws He seems to have created it with) if we only had our solar system. To enable a planet to support cogent life, God first had to make a billion, trillion stars!
In one real sense, the cosmos is a womb in which human life could be birthed; one almost unimaginably large, yet the smallest possible! And why? So that God may have the joy of our company! And He became one of us to uniquely, unambiguously and categorically tell us we matter, that we're not a product of chance or an accident, but purposed, loved and desired. So let us cry out in wonder with the Psalmist "Oh Lord, our Lord, how majestic is Your name in all the earth!"
So take time this autumn to look up and wonder at the one who in sustaining it all, for as Graham Kendrick wrote, "Hands that flung stars into space to cruel nails surrendered," and He has done it all for us!
When I consider your heavens,
the work of your fingers,
the moon and the stars,
which you have set in place,
what is mankind that you are mindful of them,
human beings that you care for them?
(Psalm 8:3-4)
Summer 2014

On the 6th of June, the UK will be commemorating D-Day, the launch of an audacious, and ultimately decisive campaign to win back Europe from the Nazi's 70 years ago. Ever since Dunkirk, life in Europe was lived under the dominating power of the Third Riech. However, with the advance of the allied forces from the strike on the beach-heads of Normandy, and the gains made on the eastern front, the tide was turned and the rule of Nazism was removed from the continent.
However, this only came about because of the determination of the Allied forces to do whatever it cost to push the enemy back. And this could only be done with careful planning, determination, the creativity to do the unexpected and preparing to sacrifice everything for the goal of a better Europe.
Thankfully, we had the will and the vision not to capitulate after the defeat of Dunkirk, but came back stronger and determined. Sadly, far too many people gave their lives on the beaches and fields of Normandy in order to turn the tide of the war and create the possibility of peace; a peace we are enjoying today. No, Europe is not perfect, and neither are the European institutions that have been created to try and prevent another horrific European war, but compared to what could have been, we are truly blessed.
The gospel story of Christ coming to us is this story writ even larger. The world in which we inhabit is one that is plagued by inhumanity and suffering caused by selfishness and self-centredness of mankind. For, even with the defeat of Nazism, Europe is far from an idyllic idyll! Every day we hear of atrocities being perpetrated by one group on another, one nation upon another. Even in the UK a day doesn't go by without news of people being inhumane to others. Even in our own lives, we know we don't act as we could. Even St Paul, the great apostle of Jesus Christ said "I do not understand what I do. For what I want to do I do not do, but what I hate I do… I find this law at work: Although I want to do good, evil is right there with me." (Romans 7). However, he goes on to acknowledge that "What a wretched man I am! Who will rescue me..? Thanks be to God, who delivers me through Jesus Christ our Lord!"
Jesus came, taught, died and was resurrected, not so that our current life may be improved and the worst of our excesses removed, but that we might have new life – life in all its fulness. You see, in Christ we have the offer of not resuscitated life, but radical resurrection life, and this has always got an added dimension. For as the Bishop of Down and Dromore, the Right Reverend Harold Miller, said,
"there is a quality about it [resurrection life] which can only be explained by heaven and earth meeting, it is the sense of the finger of God touching the finger of Adam, and of the values of God's kingdom coming 'on earth, as in heaven.'"
God's D-Day in Christ, ushered in a completely new way of being, that the invasion of the resurrection, of heaven on earth, can break through and drive back the darkness of the human condition. God is creating a new community, a new nation that will live and witness to the glory of heaven; and that community is called the Church.
We, though, always have a choice. We can cling on to what we know and try and stop the advance of God's rule, making the best of the relationships we have, the communities we live within or hunkering down until it's all over, or we can embrace the invasion in Christ. If we truly do the latter then we'll find relationships, communities and ourselves transformed. But this will mean we will need to accept the truth of this and be prepared to sacrifice everything we currently hold dear. God, in Christ, has done all the preparation, He's done the unexpected and been prepared to sacrifice all so that the darkness of the human condition can be pushed back and His Kingdom ushered in.
Question is, which do you prefer? The kingdom of this world or the new Kingdom of Heaven? The community of the world or the community of the resurrection?
I'll end with another quote from the Bishop of Down and Dromore;
"The radical challenge of the resurrection 
is that the radically-changed people of the resurrection 
become a radical blessing to all around them, 
as they live out the values of the Kingdom in the power of the risen Christ."
We give thanks and praise that the Allied forces invaded Germanic Europe 70 years ago, but we can give even greater thanks that God's Kingdom came in Christ 2000 years ago and is still advancing and will one day be the only Kingdom, for the kingdom of this world will be completely overthrown.
Spring 2014

In one way it seems incredible to me that two years ago, I was writing this Spring article and commentating upon the diametrically opposite weather conditions. The weather was unseasonably warm and we were entering drought conditions with reservoirs in Kent empty! As we enter the season of Lent this year, the water seems to keep coming and coming with every river full and overflowing!
As I write, three events have come together, which I believe are worthy of our consideration, and may assist us as we reflect and reorientate of our lives before God during Lent.
Firstly, the rain, the incessant nature of it and the misery it is causing.
Secondly, a comment made by a UKIP councillor, David Silvester, who believes the current position of the Jet-steam and the relentless storms it's bringing to the UK are a Judgement wrought by God because of the government's new law permitting same sex marriage .
Thirdly, the insights coming from the Tuesday evening house group as it currently studies the middle section of the book of Revelation.
It can be all too easy to read scriptural warnings and judgements as God inflicting pain and suffering to 'pay back' humanity for its idolatrous behaviour. But if Davis Silvester is right, then why is this judgement so sweeping? Did those who live on the Somerset levels sin so much? Were they so complicit in Cameron's Trojan Horse? Why wasn't his house, and all those who supported him submerged?
However, as the study of Revelation has shown us, this is a far too simplistic reading. The text shows us that when tribulation comes, be that through governments, systems and policies acting upon populations, or through 'natural' causes, we are shown that we are not as omnipotent as we like to think we are. Rome boasted that if it's subjects bowed to her, she would protect them, feed them, clothe them. That they could literally 'sup' from her.
However, the Trumpet blasts of chapter 8 and 9 revealed that not only was Rome impotent in the face of natural disasters (be that upon land, sea, air or fresh water) and was never all conquering (the eastern flank was never subjugated by Rome, only ever humiliated), she was also complicit in oppressing and exploiting those under her charge!
And so the judgement is passed, the revelation made, Rome was not a god, but impotent in the face of God's creation, and demonic at worst!
In other words it could be said that our very impotence in the face of these forces should demonstrate our need to be a little more humble. That it is never a good idea to really believe your own propaganda!
King Canute is famously lampooned for commanding the sea to retreat at Bosham in the ultimate display of arrogance and self-delusion – for he got a little wet! However, historians now believe he was doing this, not out of hubris, but to graphically demonstrate that he was not divine! The judgement of the waters proved him correct!
Sadly, as in John's day, we too often prefer to carry on blaming others for not being omnipotent and refuse to repent of our own foolishness.
This Lent, may we be able to have the courage to see ourselves through God's eyes, and so humble ourselves, embrace the example of Christ and then experience the joy of exultation in Christ.
Winter 2013
The season of advent is once again upon us as we prepare for Christmas. Be that checking that the decorations and lights that were stored away last January are still ok to use, writing out Christmas cards, working out what to get your friends and family or stopping to reflect on what Christmas really symbolises. Mary, two thousand years ago, had a little more than four weeks to prepare for this child and would have gone through great highs and lows during her pregnancy. From the heights of exultation as being chosen by God and embraced by her aunt Elizabeth, through to terror, would she be rejected by Joseph, who was not the father, yet she was engaged to him? Would she be expelled from her family for bringing disgrace upon them, would the village lynch her? Certainly, even with loose fitting clothes, the growing child's presence within her womb would have been clear to see at her wedding!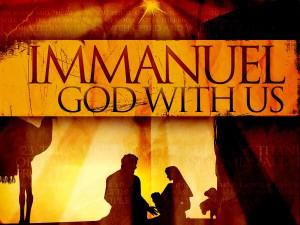 So whose child is this? Certainly, it's not Joseph, for Jesus was known as the "son of Mary"! However, Mary is told that this child will be the son of God and Joseph is told he will be "Immanuel", God with Us.
And here is the amazing part. In Christ we find the desire of God, that He wants to be a part of our lives. To share Himself with us.
Right from the beginning, it was God's desire to be with us, to walk with us, to commune with us. But we would rather be our own gods and so rejected His care, His love, His oversight and went our own way. Sadly, we are doing this still. Believing that our own lives would be better, richer, more fulfilled, when we are masters of our own lives. When we have enough money to do what we want. When we have enough status to feel important. When we have people around us who appreciate us etc. etc. Unfortunately, this never works and can never satisfy. For just as we know the decorations, the lights, the trees and the parties can brighten us up for a while, if we ask ourselves what does it all really mean, the answer is nothing of any real consequence. The decorations fade, the lights and baubles decay, the trees leaves drop and the celebrations seem hollow.
Yet almost lost in this mountain of tinsel, wrapping and turkey is the gift of a child. A child who came with a promise. A child who came to offer us hope, peace and purpose. God longs for us to walk again with Him in the cool of the evening and find there full acceptance, love and joy, that will last not for a few days in December, but a life time and beyond.
So this Christmas, dare to look out of the window and look, not for Santa or reindeer, but for a tent on the lawn, for as John said at the beginning of his gospel "And the Word became flesh, and tabernacled among us."
Open the door of your heart this christmas, accept God's gift for you and embrace the full wonder of Christmas; Immanuel, God with you.

Autumn 2013
On the 30th of August, John Kerry, the American secretary of defence announced that a chemical weapons attack in Syria had killed 1429 people, of which 426 were children, adding to a death toll of over one hundred thousand since the conflict started in 2011. In addition the fighting has displaced well over the population of Wales into refugee camps within surrounding countries; people fleeing with what they can carry and holding on to a thread of hope that there is a future for them.
But it doesn't take a war to highlight the fact that all it not what it should be in the world. In both America and Britain we have seen people separated, belittled, even dehumanised through nothing more than the pigment of ones skin! Over the summer bank holiday we have seen two events which have marked out three individuals whose belief that these divisions within humanity can not only be bridged, but healed and developed to make possible a much richer and more equitable society.
Firstly, there was the fiftieth anniversary of Martin Luther King's impassioned speech from the Washington memorial steps of the power of dreaming of a nation that refuses to judge peoples worth by whether they are simply black or white. A dream that challenged an ideology of superiority that normalised and legalised discrimination. However, it is sadly a dream that even today has yet to be fully realised, for whilst the physical segregation of 'races' has been banned, the USA still suffers from chronic economic and social segregation.
The second has roots going back to 1958 in this country, when there were violent race riots, particularly in London and especially against those who had been invited to come here from the Caribbean. Claudia Jones had a vision that this distrust, antipathy and hatred could be overcome and so set about to organise a Caribbean style carnival that was first held in St Pancras Town Hall on the 30 January 1959. The third individual was Rhaune Laslett, who, independently of Claudia, also wanted to do something to bring the disparate communities together and so promote better understanding and acceptance of one another and so set about to organise a street party. In 1966 the party finally happened and spontaneously became a carnival procession when a steel band went on a walkabout. These two ideas merged and the Notting Hill Carnival was born and has subsequently grown to become Europe's largest street festival, bring together people of all ages, creeds and ethnicities for a celebration of life.
These three all saw the same world around them that everyone else did, but rather than despairing at what they saw, believing they could do nothing, instead dreamt it could be different and set about to change their world; to try and reconcile people who, for one reason or another, did not want to embrace the other.
Long before they dared to dream, God had a vision that would see the whole of humanity at peace with one another. That war, hatred, envy and jealousies could be removed and reconciliation made possible. The cross is an image of humanity's cruel brutality; a weapon of submission, torture and death. It was used to try and uphold vested interests and power structures that benefited the few and impoverished the majority. But because God himself, in Christ, absorbed the pain, the grief, the hatred and the bitterness on that very cross, we can let it go, trust God, and find the fullness of that which Martin, Claudia and Rhaune dreamt off. That heaven may enter into the heart of man and find God's peace, reconciliation, hope and joy, here and now.
It is my prayer that the moves to nudge Syria onto the road of peace and reconciliation will come through the power and creativity of dreams, rather than the use of force and the power of the missile.
May you also dare to dream that heaven can be made manifest in, and through, your life, and then change your world for good.
"They will beat their swords into ploughshares and their spears into pruning hooks. Nation will not take up sword against nation, nor will they train for war any more. Everyone will sit under their own vine and under their own fig-tree, and no one will make them afraid." Micah 4:3-4

Summer 2013
Whenever you open a newspaper or watch the news, it's a rare surprise to find a good news story. Indeed a few years ago an entrepreneur started up a newspaper that printed nothing but good news, unfortunately, not enough people wanted to read it so it went bust! It seems bad news really does sell and our society has enough source material to keep all our news outlets very busy! Just stop and think about some of the news reports you have heard or read today, and then ask yourself is this what we really want for ourselves and for our friends and families? Earlier in the year I chaired a "town meeting" for Knaphill residents and there were far too many issues around antisocial behaviour which blights us all, from allowing dogs to foul pavements, inconsiderate parking, drag racing at night, the effects of drink and dugs etc. This all should cause us to take stock and ask, is this right, and, how can I be the solution? Perhaps you find the latter beyond your scope and other than report incidents to the relevant authorities there is nothing you can do… I believe the answer lies in the Churches understanding of the feast of Pentecost. Let me explain…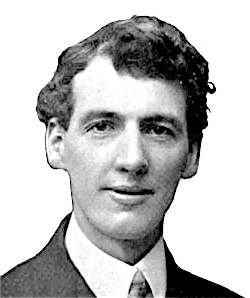 In 1889 Evan Roberts was an eleven year old boy who followed his father into the South Wales coal mines, just as thousands did. He continued to work alongside his father for the next 12 years, and as he grew up he saw first hand the culture around him, with it's prevalence of crime and alcohol abuse, and all the anti-social and family issues that went with it. However, in 1904 he began to wake nightly and felt called to pray for his nation of Wales, drawing strength from the gift of the Holy Spirit he had received. Soon a small prayer group came together to seek after God. They followed a basic model of first repentance, recognising their own self-centredness and selfishness before a forgiving God, followed by an openness for renewal, recognising that in their own strength they could do nothing but were utterly reliant upon God and the Holy Spirit to be true disciples, active in their communities. The consequence of their humility had profound effects, not only on them, but also within their communities. Their willingness to say, "Your will be done Lord, on earth as it is in heaven, and begin with me" triggered a movement that transformed Welsh society out of recognition. Evans was quoted as saying "I felt ablaze with a desire to go through the length and breadth of Wales to tell of the Saviour" and so he did.
Within two weeks, the Welsh revival was national news and the Prime Minister of the day, David Lloyd George was quoted as saying, "Welsh life has been rocked like a great earthquake." The impact of the Holy Spirit was truly transformed lives. Men and women who used to waste their money gambling or getting drunk were now saving it, buying clothes and food for their families and supporting local community projects. Public nuisance, drunkenness, theft, GBH and other crimes diminished to such an extent that magistrates would frequently come to court and find that there were no cases for them to hear at all!
Can you imagine our communities today being transformed in the same way? Magistrate courts shut because of the lack of crime, no anti-social behaviour, no gang crime, no hatred of someone who is different, be that for colour, race or creed, no child exploitation or murder… This is no pipe dream but a vision that's proven by history to be possible, it's called the Kingdom of God. For when those who profess faith in Christ actually follow him with all their heart, seeking "first the Kingdom and His righteousness," then "all these things will be added to you as well." (Matthew 6:33).
Let all who say yes and amen to Christ, follow Evan's example and, like him, know the joy of the power of the presence of the Holy Spirit bringing glory to God as we serve Christ, here and now. Trust in God, receive afresh His Spirit and then go to be, and tell, the Good News of Christ crucified to all.
"If my people, who are called by my name, ?will humble themselves and pray and seek my face ?and turn from their wicked ways, ?then I will hear from heaven, ?and I will forgive their sin and will heal their land."
(2 Chronicles 7:14)

Spring 2013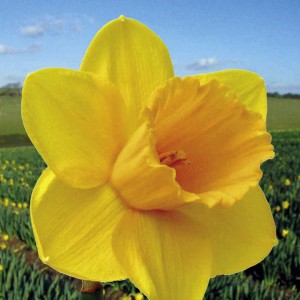 With daffodils appearing once more in our shops and the days significantly lengthening, we know that winter is passing and spring is not far off. As a church this season is marked by "Lent" an ancient tradition of the church modelled upon Jesus' time in the wilderness. Shrove Tuesday is the preparation day for the Lenten Fast, when pancakes would be used to empty out the larder, so as to facilitate a more simplified diet over the forty days, removing temptation and thus allowing more time for prayerful reflection. Sadly, this is a tradition that has been so emptied out it's become meaningless, with people stocking up the pantry specifically for it and then living from Ash Wednesday onwards just like any other day!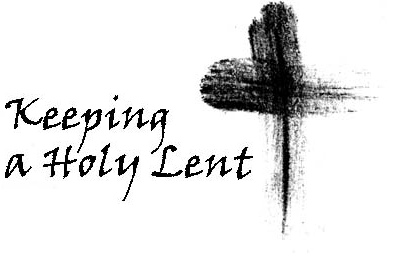 So assuming you have an interest in Lent and that it isn't just a time to go on a diet from something you enjoy, may you use it as it was originally intended. A time to simplify your life so that space is created to reflect on two key, and very revealing questions, which can then be combined to challenge us with a third.
Firstly, who am I before God?
It's a question that was asked of Jesus in his time alone with God without distractions. For during his fast he became hungry and was challenged to display his divinity by changing stone into bread. However, Jesus replied "man does not live on bread alone." When we ask this question we are challenging ourselves to see beyond the sum of the things we consume, be that food, goods, services or other people for our own ends. In this created space we need to honestly ask ourselves searching questions like, who, or what, has control of my life? What am I craving? Why? What would I find it very difficult to live without? It's no accident that Lent starts with Ash Wednesday, a time to reflect on our own mortality, for all of us prefer to believe we're like gods, rather than the created; in need of God's grace, hope and peace rather than fully in control of our lives.
Secondly, who is Christ?
Assuming you accept the historical reality that Jesus Christ was born, lived and died (of which there is a plethora of extra-biblical material to confirm it as fact – way more than confirms Hadrian ever came to Britain), then we need to ask ourselves who was he? C.S.Lewis, once wrote, his existence is not in doubt, but, we must discount him as just a good teacher, for he taught that he was God! (How would you respond if your school teacher declared she was God?) Jesus, must therefore have been a lier (he knew he wasn't but said he was), a lunatic (he really thought he was God, but wasn't) or he was who he said he was! If he was still in the grave, we could take seriously the first two, however, the resurrection of Jesus declares to all who'll see that he really is God! Now we can ask, what kind of God does Jesus model for us?
Therefore, thirdly, who am I in Christ?
The Good-news, the Gospel, is that Jesus Christ is Lord over all! Because of easter, the power that raised Christ from the dead has pulsed outwards and changed everything. Anyone who wants to break free of whatever binds or controls them can do so by recognising Jesus' Lordship over everything. The paradox is that by submitting to Christ as Lord, we find a real freedom and a new perspective in which to enjoy all that life has to offer.
It is my prayer, that during Lent, you'll find time to reflect on your own life and a fresh appreciation for Christ found and embraced, so that when you celebrate the passion and resurrection of Jesus, you may also know yourself to be under his Lordship and thus truly free to serve the one who serves you.
"It was for freedom, that Christ has set us free" Gal 5:1
Winter 2012
The picture at the foot of this page typifies the average view of the Christmas story. Whilst delightful and somewhat comforting, it is far removed from the actual biblical accounts. Sadly, rather than truly encountering the people of the Bible, we prefer to project our own view into it. I do not say this to undermine the forthcoming festivities or to advocate a puritan nay-saying, but rather to recover the wonder and excitement of Christmas from the fading gloss of a largely victorian imagination. If you want to discover what excited the Shepherds, moved the Magi, threatened the power-brokers and turned the world upside down, then you need to remove the animals (they're in the fields and where's the donkey?), any shed-like structures or hotels, friendly childish cherubs in white dresses, wooden cribs or pictures of european style villages snuggling in a valley against the winter snow!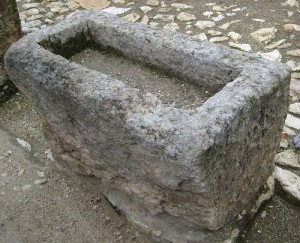 Instead, allow your imagination to take you to Bethlehem, an ancient walled town on the top of a hill (more easily defended) with houses on its slopes, to shepherds outside in the fields with their livestock and to a typical house with an undercroft where the less hardy animals are wintered. To a town where Mary is tolerated, but not welcomed by Joseph's family, being housed outside of the main living quarters of the house where the more respectable members of the family were staying whilst registering for the census (the "inn" of the story, the upper-room). Oh, and the manger in which Jesus was laid? It was most likely either a carved trough in the wall or a freestanding stone one like thousands that can be found in Israel.
Real people, living real lives, into which the extraordinary came and dwelt. And as with our lives, it's often the small, easily overlooked, things that point the way to a great truth. Therefore, go beyond the fact of the manger and ask yourself why did Luke mention it three times? Stay not gazing at the fingerpost, but look to where it points and ask for whom it was really intended?
The shepherds out in the Temple fields, tending the passover flock, are told by the terrifying messengers of God that the Shepherd of the shepherds, the descendant of King David (who himself was summoned from the same Bethlehem fields to be anointed King) is born for them and can be found lying in a sheep's feeding trough. The Angel's message may be bazaar and very particular, but it proved utterly correct, for I don't imagine many babies were being cared for this way that night! The message can therefore be believed with the same confidence as the directions, which in turn proved indeed to be the truth, for then as for now; now that's food for thought!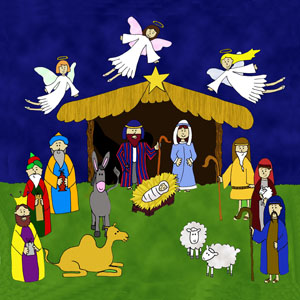 This Advent, and through the Christmas season, try to look past the trappings, the accoutrements of the festive celebrations to the person laying at it's centre. To the one who came to offer the greatest gift we could ever know, peace, hope, joy, fulness of life, affirmation, and so much more; all for a heart that dares to accept it, believe it and live it.
For then you'll find, as the shepherds did, a joy that is beyond description and a new sense of peace within you.
It is my prayer that you'll hear again, or for the first time, the message of love God has waiting for you this Christmas and draw near to Him and know that peace.
Now celebrate with all the joy that is in you the true hope for the world, for yourself and for those you love.
Autumn 2012
Whilst I recognise the supreme ability and agility of the athletes who have just competed in the Olympic games, it is the Paralympics that never cease to amaze me. Every event is filled with people who have overcome prejudice and disadvantage, people who either have been written off or ignored since birth or have overcome traumatic events in their lives. Through dogged determination and encouraged by a few who believed in them they have shown that they are far from disabled, but rather utterly able to go beyond what most of us believe we're capable off.
People such as Martine Wright who lost both her legs in the 7/7 terrorist atrocity in London. Rather than mourn her loss, she decided to embrace life and in the intervening seven years, she has learnt to walk on prosthesis, learnt to fly, took up skiing, got married, has given birth to a boy and took up sitting volley ball and progressed to become a member of the UK Paralympian team competing this year!
Or consider the hand-cyclist Alex Zanardi who lost both his legs in a horrific motor racing crash that saw the end of his F1 and CART racing ambitions. Not only has he had to put his past behind him, and recover from injuries that should have killed him, but he has started his own TV show, Champion Car building business, and competed in and won four races in the US touring Car series and developed and built his own prosthetics!
Or Sophie Christiansen who became the first Briton to win three golds at the London games. Here is a girl who was born two months prematurely with cerebral palsy, suffered from jaundice, blood poisoning, a heart attack and a collapsed lung, yet was determined to beat the odds and rose to be the dressage champion of the games with the support of the charity Riding For The Disabled.
It seems to me that the over-arching lesson of these games is that the greatest disability humanity faces is not with the body, but with a mindset, a mindset that says I can't, or worse I won't. And this unfortunately strikes any of us with alarming frequency and calamity.
Paul in his prayer to the church at Colossi, urges them to overcome any such notion by focusing on God and His will for the church. If God thinks they can, they can – no ifs no buts! And so armed with this knowledge and God's power at work within them, they are urged to show great perseverance, endurance and patience (just as the athletes have had to to grow and develop to succeed) so that they might truly live and thrive and be filled with the greatest joy imaginable.
So, what is it that God is asking of you that you have been putting off? What is it you think you'll never be able to do? What is it that is stopping you fully serving a God who really believes in you? Take a lesson from the games, heed St Paul, and let your imagination fly and then believe and do it! God is already there waiting to equip you for every good deed… (Hebrews 13:20-22).
Summer 2012
You may be aware that a little country, with an economy of a similar size to a single US state, has been very much in the news recently, threatening the stability of the whole world economy and potentially causing global stagnation and recession. But how did Greece, a small nation on the edge of Europe come to be in this position?
The political leaders in Greece would have done well to read the 1808 poem "Marmion" by Walter Scott, for in it he laments "oh what a tangled web you weave, when first you practice to deceive," when they plotted and schemed to join the Euro in 2002. Something Greece did, and then continued to do, until the problem was so endemic and catastrophic it burst out into the open.
Greece was living beyond its means before it joined the Euro. However, by creative accountancy (lying) it managed to con the EU into believing it's economy was sufficiently robust (deceit). Once joined, it had access to almost unlimited cheap loans and went on a spending spree until the problem was so endemic that in 2008 it burst out into the open with catastrophic results. Then the world knew that Greece was left with far more debt than it could pay back and so those who have lent to it, governments and Banks are left facing massive losses (for every €1 of income they're committed to paying back €1.20).
It's a shame previous Greek governments didn't pay heed to their own founding stories, instead of making the same mistake of Narcissus and gazing into the pool – Nemesis certainly is having his day! Instead they became wilfully blinded to its neighbours and fellow EU members, by riding on the economic clout of the whole Eurozone. To put it bluntly it is in it for what it could get back out, and now, depending on the next election results in June, it's crunch time. Either it plays by the rules of the club or it exits and goes it alone. If the latter, let us all pray the european banking system survives, otherwise 2008 and today's austerity measures will seem like a walk in the park! But what is true of Greece is also true of us.
Whenever we live in a way that ignores those around us, or worse, deliberately uses those around us for our own aggrandisement, we will end up impoverished. Sadly we do this all too often, be that at the national level, like Greece or within our own communities, and yes, sadly, even within churches, for we should never underestimate our capacity for self-delusion! The Bible calls this endemic problem SIN and highlights its corrosive and destructive effects through the lives of people God loved. It started in the Garden when humanity refused to obey God, instead wanting to be as God, and we have been doing our own thing ever since, and in the process hurting and abusing others.
John Donne recognised the Biblical imperative to embrace our neighbour when he wrote his famous poem. Sadly, because Greece sought the path of self-delusion, self-aggrandisement, and self-promotion, it has dug a hole that is so deep it may take decades to escape from and the cost to themselves and the rest of the world has yet to be calculated; we all will be paying for many years to come. It is my prayer that we may seek in the God of mercy, awaking to our own self-delusions and forgiveness for our own self-centredness, and a rediscovery of the joy that comes from open communion with each other and with our Lord Jesus Christ, before the bell tolls for us. But if this is all too heavy, just relax in the knowledge that for you, holidays in Greece can only get cheaper… so that's ok then! Or is it..?
No man is an island,
Entire of itself.
Each is a piece of the continent,
A part of the main.
If a clod be washed away by the sea,
Europe is the less.
As well as if a promontory were.
As well as if a manor of thine own
Or of thine friend's were.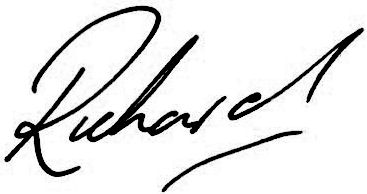 Each man's death diminishes me,
For I am involved in mankind.
Therefore, send not to know
For whom the bell tolls,
It tolls for thee.
Spring 2012
It seems almost incredible to me that as I write this reflection in February I am hearing on the news that we are officially in a drought. But then, I look out the open window to clear blue skies, with a thermometer telling me it's 17 degrees and my incredulity diminishes.
The following photograph of a Kent reservoir is from the BBC website, taken this week to illustrate the story that we are desperately short of water as this lake should be full, after all it is winter! However, this will pose all of us with some serious issues if we have no significant rainfall in the South East come the summer. Some of us may be able to remember back to 1976 when standpipes in the street were the only source of water, and life got more difficult and we had to seriously consider how we used ever drop of the precious liquid.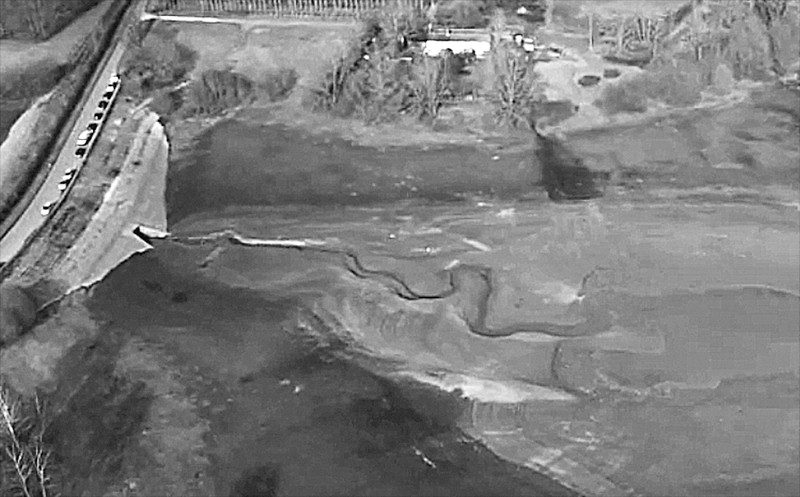 Thankfully we have become used to not having to think about water; how we use it or where it comes from. But that may be all about to change and we'll all be reminded once again just how precious water is, not just to the quality of life, but to life itself.
The Bible recognises this and regularly uses water as a picture of our spiritual health and our need to be refreshed, rehydrated and restored. Ezekiel was given a picture by God of His Spirit being like a river, refreshing and restoring life and health to those who are brave enough to partake. Starting with those who look out outside of themselves and worship God in His Temple, to those who are as dead, receiving healing in a parched and arid and poisoned land. Isaiah tells us that all those who are prepared to wait upon God will be refreshed by His Spirit and their vigour will be renewed; that they will, rather than stagger and thirst, will run and not grow weary. Jesus, said to the woman drawing water to refresh her body, that He was the source of all spiritual refreshment, to come to Him and drink deep and you'll find in God a new dimension to your life.
Just as a person who is utterly parched is slowly restored to life and once more energised, those who come to Christ will know what it truly means to be fully alive; mind, body and soul. Not only that but the promise is that then, from you, will flow that same Spirit of God so that others may find a well where the real 'dolce vita,' the sweet life, may be found.
The promise of scripture is that, unlike water in the material world, this source of refreshing is not limited by geography or ever rationed, but is available to anyone who recognises Christ as the source and sustainer of all life. To all those who can admit their need, recognise the spiritual drought within themselves and come with open arms, will receive all that God has for them by His Spirit.
Now I cannot predict what will happen to our weather over Lent, let alone into the summer, but I can guarantee that anyone who creates time to reflect on their own life and the promises of God and responds as the women at Jacob's well, saying "give me some of this water so that I won't get thirsty again" will find "a well within themselves, springing up to eternal life."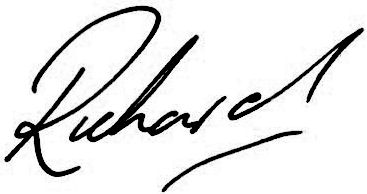 So whether you drink often, infrequently, or have never before received the real 'aqua vitae,' the water of life, from Jesus Christ, come in this season of drought and find blessing, both for today and eternity.
Winter 2011
Probably the most significant event in anyone's life, certainly for a woman, is the birth of a baby. Whether desired or not, the changes that come with the arrival of a new child are far reaching. However, unless you are famous the event is unlikely to be noticed by anyone other than your immediate family and friends. Within the pages of our newspapers, or on news bulletins, you will find articles of a more grandiose style.
Take for instance the year 1809; the big news of the day was about the bloody campaigns and victories of Napoleon in Austria and Spain, yet completely missed was the birth of two babies. Yet that same year in a log cabin in Kentucky, Abraham Lincoln was born who radically shaped and formed the USA. That December in the UK saw the birth of William Gladstone who arguably became one of the greatest Chancellors and politicians this country has ever known.
And what of Napoleon? Well Waterloo rather ended his career and the grand empire he sought to build. It often seems that what we consider important proves, with the eye of history, not to be, yet what we undervalue and overlook goes on to be of the utmost significance.
So let us go back two thousand years, when another emperor was busy building his lasting legacy. Augustus, ruler of the known world, the head over all the Roman might was causing a bit of press and ordered a census of the people. Had the Times, the Mirror or the BBC been recording history we would have had swarms of reporters in Rome and Jerusalem as the might of the empire forced hundreds of thousands to migrate back to their place of birth. Yet it was not here that history was being made, it was not Augustus or his descendants that influence us every single day of the week today.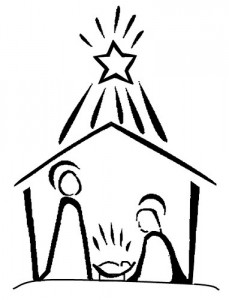 Like Napoleon, Rome fell and now lies in the dust, evidenced only by artefacts dug out of the ground and a few parchments and codices, and the world has moved on. No, to find the real history maker, you need to look outside the capital cities to an undercroft of a domestic house in a small rural backwater, where a newborn child was laid to sleep in a feeding trough. Yes – Augustus' decree prevented the baby having a warm bed as Bethlehem's population had temporarily blossomed, but it would be Jesus who ultimately brought Rome down, despite its best efforts.
This Christmas, it is the prayer of Knaphill Baptist Church that you may see with fresh eyes the wonder of the birth of Jesus, a wonder only acknowledged at the time by Mary, Joseph, some shepherds and wealthy Arabs from Iran.
"For to us a child is born, to us a son is given, ?and the government will be on his shoulders.?And he will be called ?Wonderful Counsellor, Mighty God, ?Everlasting Father, Prince of Peace."
Christmas always starts with Christ, otherwise it's just a party not an invitation…
A very blessed Christmas to you and those you love.
Autumn 2011
Unless you currently are in a place where there is no access to news, you can't help but be aware that the world (or at least the western world) is reflecting on an event that occurred 10 years ago in New York, namely what has simply become known as 9/11. The very idea that someone would hijack passenger jets and then deliberately fly them into buildings seemed too far fetched for Hollywood, let alone reality, yet that is precisely what happened and in the process killed well over three thousand innocent lives as the world watched the horror unfold in real time on their TVs.
But the real legacy of these atrocities wasn't just the damage to property and the lives lost or irrevocably changed, but rather how the world responded. Phrases such as the "war on terror" were absent beforehand and politicians and commentators now speak of a world as pre and post 9/11.
Certainly, any idea of analysing the reasons why a group might so intensely hate the west, or reflecting on who actually formed them and why was regarded almost as treason (think cold war, Afghanistan and the Mujer Adeen, or years of unjust trade barriers, or the propping up of authoritarian regimes in predominately Islamic countries for our own short term interests for example), instead the full force of anger and revenge was unleashed on the world. In the USA, many activities, which, prior to 9/11, would be viewed innocently, are now viewed with distrust, so six Imams were removed from a U.S. airliner when they prayed before the flight for showing "suspicious behaviour". Mark Stroman entered a fast food outlet and killed two people and seriously injured a third just because they looked "Asian" and were therefore guilty. Torturing and renditioning "suspects" became common place, with our own security forces now being shown to be ever more complicit in this. America set up Guantanamo Bay prison, outside the jurisdiction of the States, ignoring or bypassing international law and the Geneva Conventions and a whole new security department was created employing 184,000 people as a direct response. In the UK 'Control orders' have effectively imprisoned "suspects" in their own home, yet not one has been brought to trial in the past ten years. The consequent fear, anger and insecurity has resulted in rhetoric and legislation which has driven a wedge between communities that desperately need to be brought closer together. And do not forget that two major wars were instigated within the Muslim world, Afghanistan and Iraq, costing trillions of dollars and loosing hundreds of thousands of lives.
The prophets constantly cried out to God's world that we shouldn't ape the standards, prejudices and injustice of the nations around us, but rather be prepared to be radically different. The "eye for and eye" standard of retribution was to limit our innate capacity for capricious revenge and the ensuing cycle of violence. The cities of sanctuary allowed for injured parties to cool off and get a better perspective. Jesus himself went further and said we should pray for our enemies and seek a blessing for them and leave retribution to God. What would the last decade have been like if the west had followed Biblical principles?
Whilst George W Bush may implore the world to "never forget the most vivid events of recent history" and many have called 9/11 the day the world irrevocably changed, it will fade in time. Thankfully, another event in time hasn't and was such a paradigm shift for our planet that the world's calendar was changed as a consequence. But thankfully, God did not take revenge for the crimes against humanity that we commit, but rather sought a different solution, one that brought the death toll down to one. Jesus decided to take upon Himself all the world's vitriol, hatred, anger and selfishness and suffered death through crucifixion. Yet in the process permitted us to receive forgiveness, hope and peace. In these past years one man has epitomised this approach and has become the better for it. Rais Bhuiyan, a Muslim, was shot in the face by Stronman and survived, yet his world was devastated. However, he chose to try and understand and forgive rather than seek revenge and then went further and campaigned for Stronman to be pardoned from death row. He said "I'm trying to do my best not to allow the loss of another human life. I'll knock on every door possible". Sadly his quest failed but not before the two had come together and been reconciled.
This is ultimately the work Jesus is about, bringing reconciliation and hope. The world's alternative has left us more vulnerable, fearful and fractured. I pray the next anniversary of 9/11 will see a world that is closer to the principles of the Bible and prepared to hear the voice of the prophets, for only then will it know lasting peace.
Jesus said, "Peace I leave with you; my peace I give you. I do not give to you as the world gives. ?Do not let your hearts be troubled and do not be afraid." John 14:27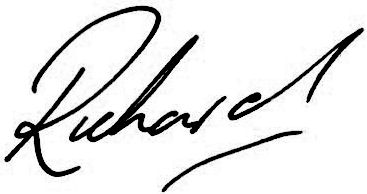 Summer 2011
Most CD/MP3 players and computers have a function these days that create a random playlist of music, and I thought I'd enjoy a bit of serendipity whilst working and, with the sun streaming in through the window, the Gershwin song Summertime started playing as interpreted by the mellow tones of Ella Fitzgerald. The calendar says it's Spring, but the weather thinks it is indeed Summertime, 'when the living is easy.' However, here in the South East the 'cotton' is far from high (not sure about the fish though!). Now having picked this topic, I wouldn't be surprised if, when you get to read this, it isn't raining cats and dogs, but to date we have had the lowest Spring rainfall since records began, being a quarter of the previous low record! Whilst it is nice to enjoy the sun, the farmers are starting to count the cost as wheat is stunted and potatoes are failing to grow, and therefore we will too when food becomes more expensive in the shops.
But the likelihood is that while it may impact upon our shopping habits, buying a non-branded product instead of our favourite brand, it probably won't be an issue of survival. But currently millions of the poorest are spending 80% of their income on food, with a litre of milk costing up to the equivalent of £10 and £6 for a kilo of rice! If these costs were to continue to rise, and Oxfam predict that costs will double again in the next two decades, then starvation will be the result.
Revelation 6:5-6, graphically chronicles a process in Asia Minor in the 1st century where the wealthy created large estates, called latifundia, and pushed the peasant of the land into urban slums, whilst at the same time hoarding the grain they produced in silos to push the price up and turning land over to olives and grapes and so increase their profit margins. This so concerned the Emperor Domitian that he passed an edict prohibiting food speculation and limited the amount of land used for wine production, but had to rescind it as the powerful vested interests objected. Sound familiar?
Well what about the 18th and 19th century acts of Enclosure in this country, which created the grand estates we now like to walk around at the weekend? The wealthy and the connected set about to create large estates and pushed the poor out, leaving them with poor quality pasture or common land and the result was chronic impoverishment and starvation of the poor.
But we've learnt haven't we? Well no; today foreign governments and multinationals are buying up huge swathes of land in Africa and Brazil, taking up long term leases from the host countries. However, this land isn't vacant, but populated by small-holder families who have been there for centuries, but because they cannot prove they own the land, the government sells it from under them and they are squeezed out.
But this injustice has nothing to do with me though, has it? Sorry, but it has, for the food grown on these large new estates doesn't go to the people of that country, this is no argument for more efficient food production to ease third world starvation, but rather to supply the broad beans, asparagus, strawberries and burgers, for example, we demand all year round, so it is partly our desires that are doing this. Secondly, we nearly all have investments and pensions, yet can we be bothered to ask how they produce the incomes and profits we want? Thirdly, the western lifestyle is starting to impact upon the world climate with more land disappearing to desertification every year.
But then, what can I really do? Now let me hear that song again…
Summertime, and the living is easy,
fish are jumping and the cotton is high.
Your daddy's rich and your mamma's good looking,
so hush little baby don't you cry…
"I will make you a light for the gentiles, that my salvation may reach to the ends of the earth." Isaiah 49:6b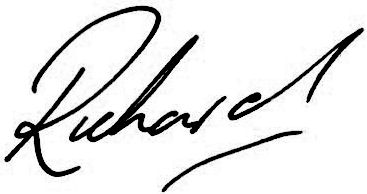 Spring 2011
Two, quite separate, Bible passages have come together for me this spring to help understand something of the convulsion that has swept North Africa and Arabia in recent months and by extension challenge the depth of my walk of faith.
Over the past few weeks we have been studying the beatitudes as found at the beginning of the sermon on the mount in Matthew's Gospel and seeing how they have such power to critique and inspire. One in particular stood out this time round for me, the fourth, 'Blessed are those who hunger and thirst for righteousness, for they will be filled.' Now, I don't know about you but I have absolutely no idea what real hunger and thirst is like. Sure, I've felt empty and in need of nourishment or refreshment, but I've never been at that point when my biological survival is utterly reliant upon finding water or food, when we become so obsessed, so single minded, so focused upon finding water that any other consideration is forgotten; either we succeed or we die! Jesus, by using this metaphor, is saying that the ones God truly blesses are those who seek after righteousness in this single-minded way, rather than one who would quite like a snack!
Mohamed Bouazizi was certainly one who knew desperation and would have appreciated a church who sought God's righteousness in this obsessive way. For on the 19th of December he become so outraged and desperate that he protested against the injustice he could do nothing to stop, by setting himself on fire in front of the governors building in the centre of Tunis. He was a poor man trying to support his family, when the wares he was trying to sell were impounded after just having taken out a $200 loan to buy them. No one was prepared to hear his cry of injustice and desperation, or consider his case; he now had nothing, was in debt and saw no hope, and, in his anger, overcame the Islamic prohibition against suicide and staged his last protest. On the 4th of January he died and, at his funeral, five thousand protesters initially took to the streets, soon to be joined by countless more. This act of righteous outrage galvanised the Tunisians, who were fed up with high unemployment, high food inflation (caused in part by speculative futures trading in London and New York) and chronic, endemic corruption. Anger overcame their fear of the regime and they forced the Tunisian president, who had been supported by the West, to flee. The cry for righteousness and justice then spread to other countries, with Egypt, Libya and the Yemen following and concessions being granted in Bahrain, Syria and Jordan; all of whom had been, or still are, heavily buttressed by the West.
What will it take for the church here in the West to become so driven to seek after the righteousness of God? Or are we too happy to snack and graze our way into the Kingdom? Sadly, whilst the latter makes for an easy life, in snacking we are neither truly filled or know the full blessing of God, but rather become anaesthetised to the heart beat of God and his passion for justice and equity.
The second Bible passage, was Numbers 6, in which God speaks to Moses about a particular vow of separation, called a Nazarite vow. Someone who takes on such a vow would not cut their hair, would abstain from wine, and avoid death. The first removes the person from any idea about vain-glory and the focus on self. The second removes the idea of enjoyment coming primarily from anything other than God, the source of all goodness. And the third, especially in a culture where death was evident and not hidden away like it is today, forced the Nazarite to remain focused upon life.
In the light of the beatitudes it might help us to rediscover the Nazarite vow and embrace it so that our churches can truly be alive to the desire of God for us and thereby experience His full blessing. But, rather than adopt exactly what Numbers 6 prescribes, it might be more profitable to take its principles and in this season of Lent embrace them as our own. If you want to, let your hair grow, but rather why not abstain from all things fashion and instead, purchase and indulge in only that which is absolutely necessary to keep you decent. Abstain from anything that detracts from focusing clearly on God and His righteousness, be that alcohol, food, or perhaps the latest electronic fad, or any stuff that takes over our time and leaves our relationship with God poverty stricken. And lastly, be honest about what strips the joy from your life, what has such a hold over you that you barely feel you have your head above the water line and give it to God.
In other words, re-orientate your life towards God and you'll find that the result is blessing and a fulness of life you could not have imagined. And then together we'll start to see as Jesus sees and we'll truly hunger and thirst for righteousness and find that blessing spreading outwards, through us, to those we live and work amongst and those we meet, and who knows, may even change the world…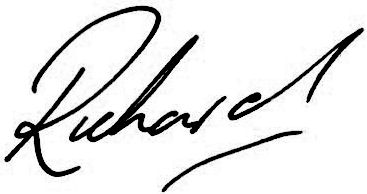 Winter 2010 Message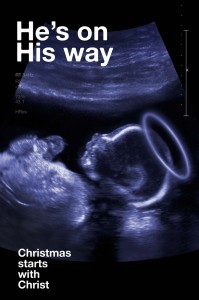 This striking image of a developing foetus will shortly be seen on many bus stops and church way-side pulpits to graphically remind us that Advent is upon us and within four weeks we will be celebrating Christmas Day. Not just a bank holiday and a time to let your hair down and give and receive presents, but a time to truly celebrate. But just what are we celebrating? A birthday? Yes! But also so much more.
We are normally delighted with the news of a safe birth of a child and when it's within the family even more so. But why should we really be that excited by a birth that occurred in a distant land, two millennia ago, to people who are now just characters in a book?
We should be excited, because the coming of Jesus Christ into the world, changed everything, not just the domestic arrangements of one middle eastern family. For as John records at the beginning of his gospel, God became flesh and dwelt among us, and we have seen His glory, glory as the only Son from the Father, full of grace and truth.
The world in that moment, fundamentally changed. God, the creator of all, broke into our history, into His very creation in the form of a child, so that humanity would have the opportunity to be all that God had originally intended us to be. For men and women everywhere to be fulfilled and have open, loving relationships with one another and with God and our created environment.
All this is possible, because in Jesus we see someone who is fully human, yet also an individual who has been born with all the fulness of the image of God. Something not seen of earth since Adam rebelled and promoted himself to be as God and damaged that God given image.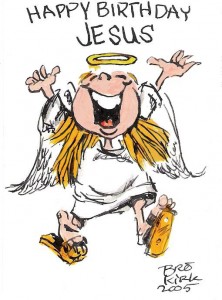 And our continued belief that we know best has wrought only grief and anguish, yet in Jesus we see Eden being restored. For through Him, God is bringing about the much longed for renewal of creation. It isn't just that a baby is born, but rather through Him is birthed that whole new world order, re-centred on God. An order in which God is with man and man is once more in fellowship with God. A world order in which bitterness, hatred and division are absent, so rather than taking railings, ploughs and sauce-pans and turning them into weapons of war (as in the 2nd World War), humanity will be fulfilling the prophecy of Isaiah by doing the reverse for arms will be redundant; peace will be the order of the kingdom. For with Jesus, comes the offer of shalom, of wholeness, well-being, contentment, satisfaction and a knowledge of the love of God. Know Jesus, know peace, but no Jesus, no peace! So no wonder the angels sang Glory to God in the highest and peace to His people on earth!
Sounds too good be true? Well it would be if it ended with a baby, but it didn't, it ended with an empty grave and the promise of life as we have never experienced it before; life in all it's originally intended fulness. The offer is before us, but we need to decide in whose kingdom we want to live, whether we are prepared to accept Jesus and follow Him, or continue with a celebration of what?
It is my prayer this Christmas, that you and all your kin may know that blessedness by accepting the greatest gift that has ever been given, and allow heaven to be born in you. Now that's something to celebrate!
Autumn 2010 Message
The summer of 2010 won't go down in the annals of history as a truly great summer (1976 is still the one to beat if you can remember it!), but it wasn't bad. However, the summer of 2010 will be remembered for the monsoon weather that battered the Indian subcontinent. The warm moisture laden air being driven northwards collided with the jet stream which was unusually south and the consequence was that in 48 hours the Pakistani mountains received more than a years normal rainfall. This rushed headlong towards the sea inundating a third of the land mass of the country and displacing millions of people; wiping out roads, bridges, whole hospitals and villages. We thought the floods in this country were bad last winter, but this is biblical in its scale, and something too vast to comprehend without experiencing it for ourselves.
An obvious 'spiritual' lesson from this is Jesus' parable of the foolish man who built his house on the sand (Matt 7:24), and with the sudden deluge of the storm all he had was washed away.
In one sense this is a useful reminder to us (not the Pakistanis) that the things we cherish and value are all temporary and ultimately of no worth. So we can look at our own lives and try to comprehend how we would cope if in one sudden incident, be it flood or fire, we lost everything we had and were left only in the clothes we stood up in. I came across this image of a sand castle from Australia (yes the car is the sand sculpture!) and the pride in the five who created it is obvious, but we know on the next tide its gone, and this is the same for all the things we invest so heavily in (Matt 6:19). But all this really misses the main point of Jesus' story of the wise and foolish builders.
There was a saying two thousand years ago that the Temple in Jerusalem was built on solid rock and no storm could sweep it from its firm foundation. Yet in 70AD this was proved to be a false assumption as it was razed to the ground by the Romans, fulfilling Jesus' own prediction (Matt 24:2); the nation of Israel had lost sight of the God they were supposed to be serving and witnessing for. The storm of the parable is the judgement on the builder's life (as in the time of Noah), it serves to ultimately test the framework upon which we have built and lived our life. Have our lives been founded on the Kingdom or on our own prejudices and preferences; the devices and desires of our own heart?
So what lesson do I learn from this parable and the events in Pakistan? We'll if my life is truly based upon the life, teaching and example of Jesus, then what I do and how I respond will demonstrate this. Do I perceive the problem as too difficult to cope with, too large to comprehend? Do I just ignore it and get on with my life? Or do I do what Jesus did in reaching out to those who didn't know him with everything he had? Can I dare to pick up the challenge to reach out to those who desperately need God's love and compassion, to those who have lost everything, be they Christian, Muslin, Atheist, Buddhist or whatever, even at the cost of my own comfort? So, the question is now, what will I sacrifice so others might have a drink of clean water? For this is truly building on the words of Jesus, the Rock of the Kingdom of God, and how you build up treasure in heaven, where moth and rust do not destroy (Matt 6:20). Ultimately, it is only Jesus Christ and His Kingdom that will endure forever and that's worth everything you have.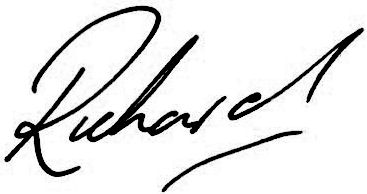 Summer 2010
As I write, the country is betwixt and between two major competitions, one that has resulted in a draw and the other which is guaranteed a definitive outcome, and both which will play large on the nation's psyche in days and months to come. And both are competitions that people invest hugely in, both in time and resources and emotional capital. With the general election it is easy to understand why, for at stake is the prize of wielding great power for the next five years. For the winning party's leader, it carries the kudos of being the country's Prime minister and for the party, or in this case parties within the coalition, the opportunity to effect the future direction of the country; both economically and socially. Hence those interested in party politics are prepared to invest what some would consider insane amounts of money (in 2001 the conservatives spent over £12 million on their campaign!) as well as a highly committed workforce pounding the streets getting their particular message out to the voting public.
Then we come to the World Cup, and need I really say anything about the passions that are aroused by this simple competition of grown men kicking an inflated sheep's bladder around a field for an hour and a half! It is estimated that South Africa are spending £3 billion to host the games, that's equivalent to £46 million for each game played in the competition, which will all be over in a month and forgotten within another! Add to this the investment fans will make (sorry I'm not one, but then you've probably worked that out by now!) in tickets, flights, hotels, food and alcohol etc for those going to South Africa, and for those staying in the UK, flags, days off work and the obligatory food and drink etc. This all amounts to probably a greater investment in time and energy per head of population than that given to the last election!
Think about it, we are prepared to invest so much of our time, money and emotional capital in a competition that only lasts four weeks (assuming our team stay to the final) and then only have the joy of the victors crown for four years!
So two competitions, one results in a statuette and a four year crown, the other the privilege to govern the country for up to five years before it must be handed back. Yet in the middle of these two is an anniversary of an event which far exceeds the previous two in influence and longevity. Fifty days after the passion of Christ, the disciples were obediently in Jerusalem waiting for God to act. They were a small group of people who were prepared to invest the totality of their lives in God's project, God's kingdom, and as a consequence changed human history.
Today, this same challenge still goes out to the church. Are we prepared to invest our wealth, time and emotional capital, not in a game, not in a five year stint, but in a project that has eternal consequences? We'll pound the streets for a coloured rosette, we'll openly celebrate a football team, we'll delight in passionately evangelising both, but what about our Lord Jesus Christ and the Kingdom of God? But what is more, God still makes available the power of heaven for the disciple that will give of themselves, for it is in giving one's life for the sake of the gospel that we truly find it.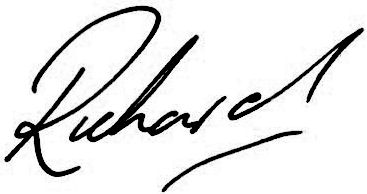 Spring 2010
With the days slowly starting to lengthen again (though they have yet to get much warmer!) spring is approaching fast. Signs are everywhere if you know how to look, migrating birds are starting to return, insect life is returning and hibernating animals are starting to stir. Daffodils are pushing up from the ground here in Knaphill, and in Cornwall, they are being harvested for the florists and supermarkets to brighten up our houses. Yet in the grey of the drizzle and with the constant threat of snow still upon us, it is easy to believe otherwise. Spring is also the time in the Christian calendar to pause, to take stock, and reflect upon the forthcoming message of Easter. For just as in spring we see new life and new growth all around us, Easter is primarily a message of new life. But just as we can go about our day to day lives and miss its signs and the wonder of colour returning until everything is in full bloom, so too with Easter. It would be easy to spend the forty days of Lent as if they were just like any other day and crash upon the Easter festivities without really considering its purpose and central message.
But then what's so special about eggs and bunnies anyway? Well, nothing if they are just an excuse to gorge on chocolate and delight in cute soft toys or cartoons on cards, rather than signs of new life and promise. And that's the problem, the caricature of Easter and of Christianity, which is so pervasive, has tried to rob Easter of its full promise.
Lent is sometimes seen as a time to reflect upon the teachings of Christianity so that it can be better implemented, or a time for self restraint. Whilst both are laudable, they both miss the point. You see, Christianity, at its heart, is not a philosophy, it is not a legal code, and it is not a pathway of spirituality. The bible records very little of Jesus' teaching (considering he was doing it for over three years!), but the bible does, from Genesis through to Revelation, express God's desire to be known and this is supremely expressed in and through the person of Jesus Christ. Yes Jesus was a real, historical, person who lived, died and rose again in a particular period of history, of which the testament of the extra-biblical material alone is over-whelming.
The Christian faith declares that, in and through Jesus, the creator of the world launched His plan to rescue the world from the decaying and corrupting force of evil. An event which brought about a new state of affairs, that is, the sovereign, rescuing rule of the Christ, here on earth. But if none of this happened, then Christianity is based on a mistake. You can't rescue our world of pain and injustice by turning it into a philosophy. Of course, this gospel was nonsense in the ancient pagan world, as it is still nonsense in the modern world, which is why instead of embracing and celebrating Christ, we too often embrace and celebrate the symbols; the bunnies and the eggs.
Jesus' resurrection was not a kind of odd phenomenon which validated a particular religious theology and it isn't an added extra, an addendum, to a moral philosophy. It is the launching-pad for God's new creation, it is the power that makes all things new; to bring hope and real life, life in all its fullness. Therefore, "Christian spirituality" is learning to live in that new creation, with that new hope. "Christian ethics" is learning to let the power of that new creation shape your life. And "Christian political theology" is discovering what it means, through the resurrection, for Jesus to be the world's true Lord, raised 'far above all rule and authority, power and dominion, and every name that can be invoked' (Eph 1 :21) and for us to know, follow and obey him.
Therefore, this lent, take time to come to know the person of Jesus more, the one who values you so highly, who did all that is necessary for you to know him, not just now but for all eternity in His new creation, which is budding all around us if you would be see. Therefore, this lent, take time to come to know the person of Jesus more, the one who values you so highly, who did all that is necessary for you to know him, not just now but for all eternity in His new creation, which is budding all around us if you would but see.